As a My Music Workshop® franchise owner you can take pride in your career, love your work, and make a difference in children's lives each and every day!
Find out more about the benefits of a My Music Workshop® music education franchise:
Image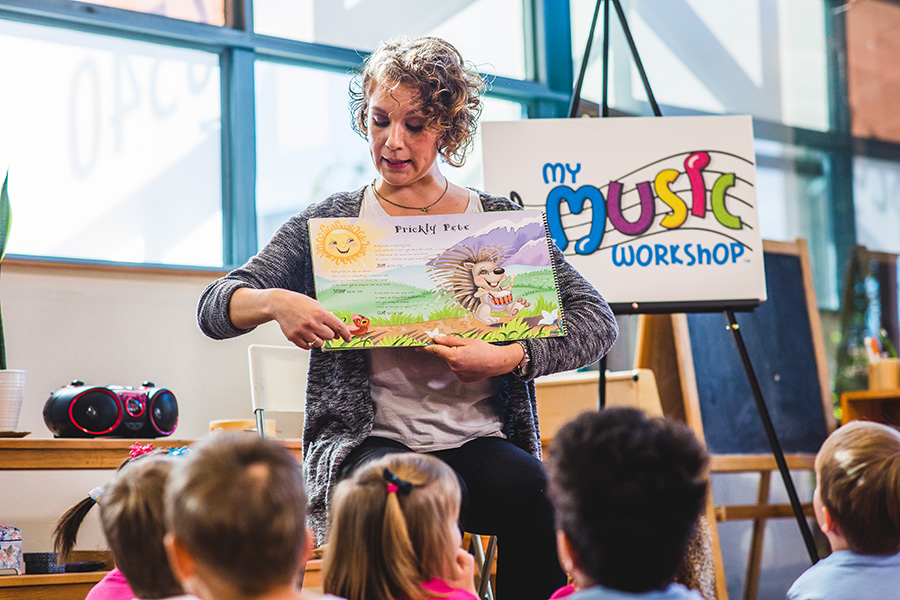 Our passionate ownership and management team prioritizes the success of every franchise!
Image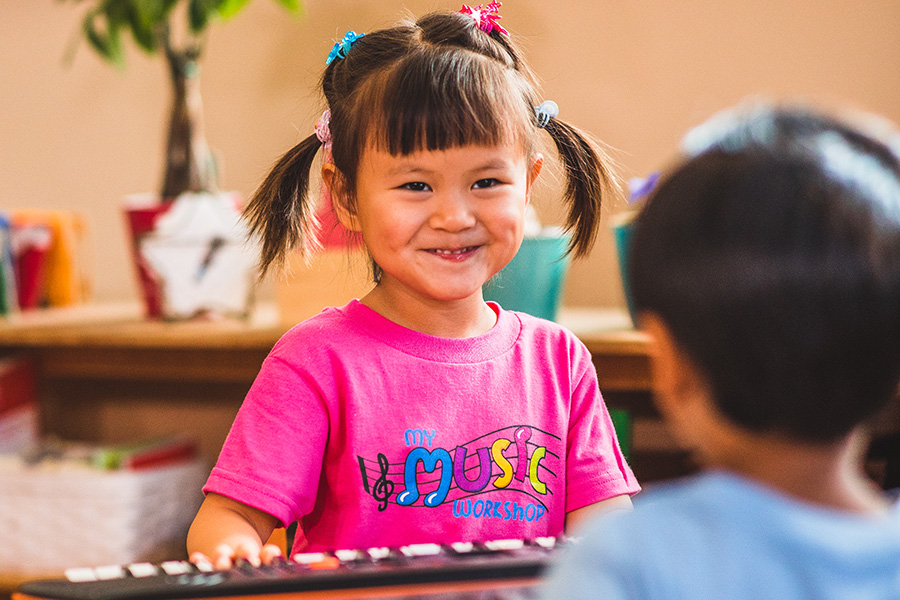 Take advantage of our experience operating a successful music teaching business, and let us help you succeed!
Image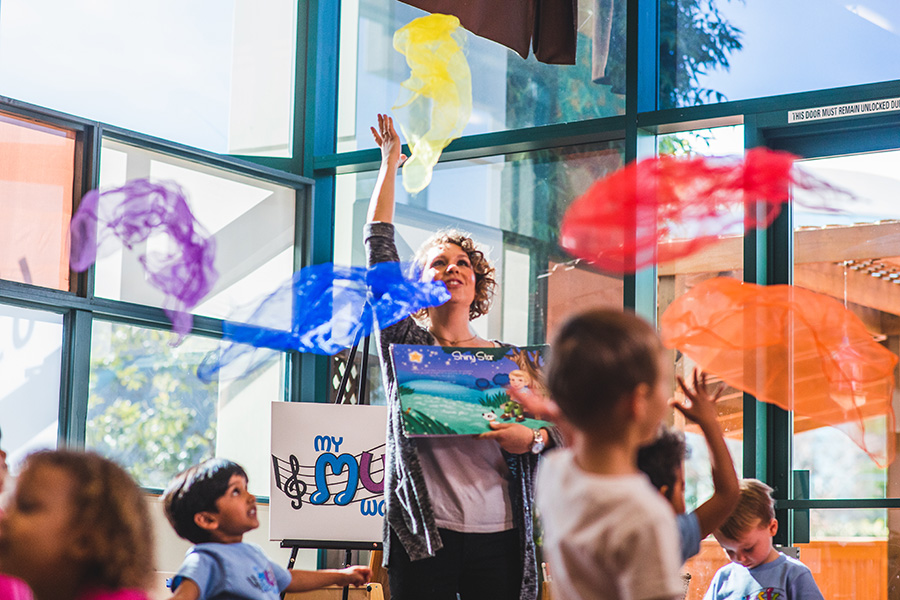 Receive world-class support from our team as you grow and run your My Music Workshop franchise.
Bring Kids, Music & Fun Together
with your own music teaching franchise!
The My Music Workshop franchise program allows you to provide children with a joyful musical experience that establish a positive relationship with music from an early age!
You will offer kids a fun way to connect kids to music through a time-tested approach we call Listen, Learn, Play!® and our exclusive curriculum called Little Music Masters®. These things will be the heart of your music education franchise.
"Positively influencing children's lives with My Music Workshop has been a joy to us. We love what we do each and every day."
We Offer a Simple to Follow Business Model
As a My Music Workshop® franchise owner you'll get comprehensive initial training in San Diego, CA covering the following:
How to connect your program to local schools and build lasting relationships
How to market the program to students and parents
How to teach impactful classes using our Listen, Learn, Play!® approach and Little Music Masters® curriculum
How to recruit, hire, train and manage your teachers
How to manage and operate the business
How to grow your business
The best ways to work with young children and be a positive influence
You also receive tools, templates, all that you need to run your business and lifetime support!
The Flexibility of Working from Home
There is no building to rent, or location to maintain, lowering your monthly expenses and allowing many more students to be reached.

Minimal Overhead
A home-based franchise with a low capital investment, low overhead, low equipment costs mean you can start making an immediate impact on your territory …and your bottom line.

Time-Tested Appeal
Our time-tested concept is fun for kids and it works! Thousands of children have learned to love music through our program in our 10 years in business. Children, parents and teachers alike enjoy our fun-filled, interactive curriculum. It includes seven illustrated units, over 350 pages covering a wide variety of music topics for early childhood. The curriculum is fully illustrated, user friendly, and completely engaging to children. It even includes original music that the students love! Through the franchise program you and your teachers will be trained on how to teach fun and educational classes using this curriculum.

We are excited to spread our passion for kids, teaching and music into more communities. Find out how a music teaching franchise can enrich both YOUR life and the lives of CHILDREN.

To learn more about how you can take advantage of our award-wining custom-created curriculum and teaching method, and how you can apply it in your own local home-based, kids music franchise business, visit our Frequently Asked Questions page, request more information, or contact us at:
Build Your Future, One Note at a Time
with a music education franchise for young children
Your Chance to Leverage Market Growth Trends.
Did you know? Music can positively shape the rest of a child's life. Studies show musical experiences in a young child's life can:
Accelerate brain development
Enhance language acquisition and reading skills
Increase a child's ability to focus
Lead to improved learning later in life4
Recent studies have shown that with growing numbers of parents working outside the home, most children under five years old receive child care from someone other than a parent. Almost one-quarter (23.4%) of children under the age of five are in some form of organized child care arrangement, including day care centers, nurseries, and preschools.1 So it's no surprise that the child day care market rakes in $48 Billion in revenues on an annual basis.2
On top of that, since the end of the Great Recession, there has been an uptick in parents outsourcing child-related duties (e.g., child care, coaching, and tutoring). In fact, the parental outsourcing industry recently reached nearly $55 billion – with ample opportunity for small businesses and entrepreneurs.3
My Music Workshop capitalizes on these trends and responds to the increasing demand for quality preschool supplemental education programs. You can provide valuable musical educational to the growing number of children in preschool settings, meet parents' demand for educational services they seek for their children – and ultimately position your business for sustained growth.
I would teach children music, physics, and philosophy; but most importantly music, for the patterns in music and all the arts are the keys to learning.
— Plato
Take advantage of a concept that will set you apart
Proprietary "Little Music Masters®" Curriculum Series – offer an innovative way for children to learn music with our engaging, fun-filled, and interactive curriculum series. Over 350 pages of vibrant illustrations, music and activities designed just for kids!
Instruments of all sizes, shapes and tones – give students the chance to play real instruments in every class including child-sized guitars and ukuleles, keyboards, drums and more
Training tools – ensure your instructors become certified My Music Workshop teachers and that your program meets state preschool requirements

No other franchise program offers a flexible, streamlined and truly original business model like My Music Workshop. And with the tools and support your receive, you can quickly build your business – in your own protected territory!
Get your music program franchise ownership started now! Learn more about how to bring a unique, innovative approach to teaching music to children in your community. Visit our Frequently Asked Questions page, request more information, or contact us at:
1 https://www.americanprogress.org/issues/economy/news/2012/08/16/11978/fact-sheet-child-care/
2 https://www.ibisworld.com/industry-trends/market-research-reports/healthcare-social-assistance/social-assistance/day-care.html
3 http://www.businesswire.com/news/home/20100727006661/en/Parental-Outsourcing-Grows-55.8-Billion-Industry-IBISWorld
4 Habibi, A., Cahn, BR., Damasio, A., Damasio, H. (2016). Neural correlates of accelerated auditory processing in children engaged in music training. Developmental Cognitive Neuroscience, 21, 1-14.
We Pull Out All the Stops
to support your children's education franchise
We're a family-owned business, and every franchise owner is an important part of our family.
You will get all the support you need from an experienced and committed team. With our tools, resources and years of experience, you can conduct your business and enjoy the experience of a lifetime.
Here are some of the ways we help you ensure your business always stays on track:
Start-up training, guidance and support – We will teach you a business development strategy to get your operations running smoothly, by building a network of local schools and promoting your services to your students and their parents.
Instructor training support – We will help you train teachers and help you ensure you and your staff meet the proper state preschool certification requirements.
Established curriculum and curriculum training– You will receive the entire proprietary My Music Workshop curriculum that's helped thousands of youngsters become lifelong music lovers. You will be trained on how to properly use the curriculum to teach amazing music classes week after week.
Ongoing support – Our experienced team is committed to being there to support you with day-to-day operations and business management, via phone, text, email or refresher training. We are here to help you succeed!
Confidential operations manual – Our operations manual will become an invaluable daily resource that details key business functions and procedures.
Marketing materials – We will provide you with an extensive library of customizable templates, help you develop promotional materials for your local area and offer guidance on connecting with schools and facilities throughout your local area.
Marketing support – We will teach you how to effectively market your program, get students and keep students.
Registration and Tuition Collection Portals – We'll get you set up through our website so parents can register and pay tuition online, directly to you.
Learn more about how we support your children's education franchise. Visit our Frequently Asked Questions page, request more information, or contact us at:
Questions about the My Music Workshop Children's Franchise
What experience do I need to become a My Music Workshop franchise owner?
There is no specific experience required, but of course a genuine interest in music and working with children is important. No matter your experience or background, we'll provide the training, tools, curriculum and support you need to start your franchise and grow it over time.
Do I need to actively work in the business to be a franchisee?
We are looking for franchise candidates who will be actively involved in their businesses, often taking on the role of the lead instructor in early phases of growth. (Appropriate certification is required for all instructors.) If you choose not to act as the lead instructor, we require you to hire a lead instructor who is approved by us and will receive training alongside you in all aspects of building and running the business.
What is provided as part of the My Music Workshop program?
We have used years of experience in the classroom teaching music to preschoolers to create a truly unique, effective and fun curriculum that focuses on our Listen, Learn, Play!® method. It includes more than seven illustrated and interactive music books covering over 350 pages that teachers use in classes to engage them in their early years of music education. The curriculum also comes with original songs, music and audio, guidance for teachers and more. We also assist you and your teachers with understanding preschool students and how to properly work with them to provide value in their lives. Also included are the tools necessary to effectively market your program to schools and locations that will hold your classes. Beyond that we provide even more tools to market to students and parents once you are working with schools. You will receive templates, guides and simple strategies to grow the sizes of your classes, maintain them and keep students coming back! We provide up to five days of initial headquarters-based training for franchise owners and lead instructors. We'll also provide ongoing support as you begin marketing to schools in your protected territory and as your business runs and grows. In addition, we will present you with a copy of our confidential operations manual to help run your children's franchise properly on a day-to-day basis. In short, we provide you the tools, strategies, guidance and support to start, run and grow a successful music teaching business of your own.
How much will the My Music Workshop program investment cost me?
The total initial investment necessary to start your My Music Workshop franchise ranges from $31,104 to $48,500. The range reflects things like whether you would need to build out a home office, purchase a vehicle, computer and other necessities to run your business. If you already have many of these things you might expect your investment to be on the lower part of the range. These numbers include an initial franchise fee of $22,500. As with any new venture, it's important to have adequate capital to fund your initial business growth stages.
Is financing available?
We do not provide direct financing to franchisees, but we may refer financing sources on a case by case basis.
Are there ongoing fees to pay?
We charge a royalty fee equal to one student tuition per class at each campus. Additional classes held at the same campus on the same day are charged ½ of one students tuition. For other revenue generating aspects of the business a royalty of 8% of net revenues is charged. These fees allow us to fund our ongoing support services and the continued development of music curricula, marketing tools, training programs, and more.
Are there any advertising fees?
While there is no set requirement for local marketing expenditures, we will provide ample guidance on printing and distributing flyers and other collateral materials each month to local schools and centers. To aid in these efforts, franchise owners will contribute up to $150 per month into our system marketing fund, which will be used to generate marketing strategies and campaigns, and to develop local marketing materials used to promote the My Music Workshop brand. This fee is currently $100 per month.
What is the term of the agreement?
The initial term of your agreement is seven years, with two subsequent successor agreement options of five years each.
How do I get started?
If you're interested in learning more about how to open a children's music education franchise with My Music Workshop, simply fill out the form at the bottom of this page to request more information. Or you can contact us at (619) 347-0424 or franchise@mymusicworkshopforkids.com to discuss the possibility of speaking with our franchise team, visiting our home office, and receiving our FDD (Franchise Disclosure Document) which contains all the important details you'll need to make an informed decision.