The best decision I've ever made! My Music Workshop has given me my life's purpose. I love what I do and I'm passionate about my work!

-Jody Hudson, Franchise Owner (Henderson, NV)
Find out more about the benefits of a My Music Workshop music education franchise:
Image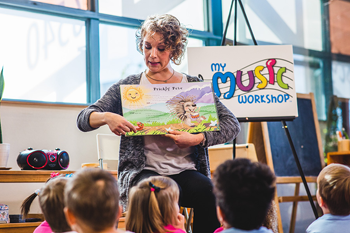 Our passionate training and support team prioritizes the success of your business!
Image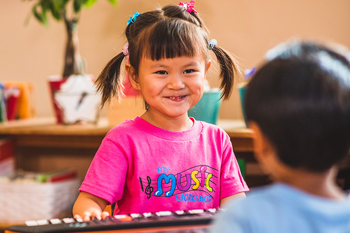 Quality programs for children are in high demand. Music education has huge benefits for kids. Explore the research.
Image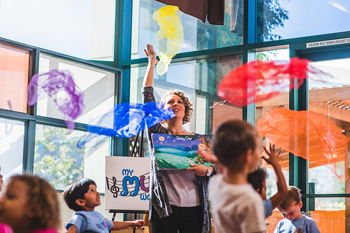 Receive world-class training and support from our team for the life of your business.
The Steps to Business Ownership...
Open a My Music Workshop® location of your own with these steps:
Schedule a short informational call with us to see if a My Music Workshop® franchise could be a fit for you.

This gives us a chance to get to know each other, gives you information about the program, and allows us to answer questions that you have.

---

If My Music Workshop is a good fit we will schedule a Discovery Webinar with you.

This takes about 1 hour and provides you with a much more in depth look at the My Music Workshop® business model and franchise opportunity.

---

If you are excited to move forward you'll complete a Franchise Ownership Application. You may also choose to attend a Discovery Day in San Diego, CA to see a My Music Workshop business in action.

---

Once your application is approved we'll schedule a time to review our Franchise Disclosure Document (FDD). This is the document that explains the all of the details of the franchise program and lays out the legal aspects of owning a franchise of your own.

---

We provide you with a copy of the FDD and Franchise Agreement.

You will have at least 14 days to review the FDD and Franchise Agreement, consult with an attorney of your choosing and make the final determination before committing to opening a franchise location.
We are available to you for this entire process if you have questions or need anything.

---

During this time we will work with you to create an exclusive territory to run your business.

Your territory will include at least 70 preschools as well as all the elementary schools contained within the area.

---

Sign your Franchise Agreement and become part of the My Music Workshop® family!

It's time to schedule your on-site, comprehensive training at our headquarters in sunny San Diego and get your business started!
We LOVE My Music Workshop! Our daughter has so much fun exploring different instruments, learning about music and expressing herself through music. She has developed an interest and appreciation for music and she is a much more confident, well-rounded little girl. Thank you My Music Workshop!

-Anita W, Parent of a My Music Workshop student
You'll Receive Comprehensive Training
As a My Music Workshop® franchise owner your initial training in San Diego, CA will cover the following:
Tips, tools and training on how connect your program to local schools and build lasting relationships with them

---

How to market the program to students and parents who will sign up for My Music Workshop® classes

---

How to teach impactful classes using our Listen, Learn, Play!® approach and Little Music Masters® curriculum

---

How to recruit, hire and train great teachers to work for you

---

How to manage and operate the business day to day

---

How to grow your business to include more schools and more students

---

The best ways to work with young children and be a positive influence on them

---

You also receive tools, templates, all that you need to run your business and lifetime support!
The Flexibility of Working from Home
With no building to rent, or location to maintain, your monthly expenses are kept low. You can run your business from home and travel to schools to teach scheduled classes. My Music Workshop® truly is a home-based franchise opportunity that works for you!

Minimal Overhead
A low-cost franchise with a low capital investment, low overhead, low equipment costs mean you can start making an immediate impact on your territory …and your bottom line.

Time-Tested Appeal
The heart of My Music Workshop® is our unique approach and curriculum. Taking years to construct, it is the core of what makes our classes fun, enriching and keeps our students coming back. Thousands of children have learned to love music through our program in our 10 years in business. Children, parents and teachers alike enjoy our fun-filled, interactive curriculum.
What's included in our "Little Music Masters®" award-winning curriculum:
Seven illustrated units, spanning over 350 pages, and covering a wide variety of musical concepts

---

Games

---

Activities

---

Stories

---

Illustrated Lessons

---

Lesson Guides

---

Original Music

---

Instrument instruction for children

---

More!
Learn More about how you can take advantage of our award-wining "Little Music Masters®" curriculum and teaching method, and how you can us it as part of your own local home-based, kids music franchise business, visit our Frequently Asked Questions page, request more information, or contact us at:
Music education has major benefits for children
Music can positively shape the rest of a child's life. Studies show music education in a young child's life can:
Accelerate brain development
Enhance language acquisition and reading skills
Increase a child's ability to focus
Lead to improved learning and grades later in life4
Contribute to enhanced pre-reading ability5
According to the Musical Education Department at Rowan University, early childhood is the
most critical period in a child's musical growth.6
Quality education programs for kids are in high demand
Recent studies have shown that with growing numbers of parents working outside the home, most children under five years old receive child care from someone other than a parent. Almost one-quarter (23.4%) of children under the age of five are in some form of organized child care arrangement, including day care centers, nurseries, and preschools.1 So it's no surprise that the child day care market rakes in $48 Billion in revenues on an annual basis.2
The parental outsourcing industry (e.g., child care, coaching, and tutoring) recently reached nearly $55 billion – with ample opportunity for small businesses and entrepreneurs.3
My Music Workshop capitalizes on these trends and responds to the increasing demand for quality preschool supplemental education programs. You can provide valuable musical educational to the growing number of children in preschool settings, meet parents' demand for educational services they seek for their children – and ultimately position your business for sustained growth.
I would teach children music, physics, and philosophy; but most importantly music, for the patterns in music and all the arts are the keys to learning.

-Plato
Music, Kids, Your Own Business and Fun. What could be better!
No other children's education franchise program offers a flexible, streamlined and truly original business model like My Music Workshop®. And with the tools and support your receive, you can quickly build your business – in your own protected territory!
Start your home-based, low-cost, children's music franchise today! Contact us at:
1 https://www.americanprogress.org/issues/economy/news/2012/08/16/11978/fact-sheet-child-care/
2 https://www.ibisworld.com/industry-trends/market-research-reports/healthcare-social-assistance/social-assistance/day-care.html
3 http://www.businesswire.com/news/home/20100727006661/en/Parental-Outsourcing-Grows-55.8-Billion-Industry-IBISWorld
4 Habibi, A., Cahn, BR., Damasio, A., Damasio, H. (2016). Neural correlates of accelerated auditory processing in children engaged in music training. Developmental Cognitive Neuroscience, 21, 1-14.
5 Brandt, A., Gebrian M., Slevc R.L., (Sep, 2012) Music and Early Language Acquisition. Frontiers in Psychology, 10.3389/fpsyg.2012.00327
6 Levinowitz L., (Fall 1998) General Music Today
Support tailored to you!
Every franchise owner is an important part of our family. We support you through every aspect of business ownership.
Each franchise owner is different. We are here to meet the needs of each individual franchise owner and help them succeed.
You will get all the support you need from an experienced and committed team. With tools, resources and years of experience, you can run your business and enjoy the experience of a lifetime.
Here are some of the ways we help you ensure your business always stays on track:
Start-up training, guidance and support – We will teach you a business development strategy to get your operations running smoothly, by building a network of local schools and promoting your classes to students and their parents at those schools.
Instructor training support – We will help you train teachers and help you ensure you and your staff meet the proper state preschool certification requirements.
Established curriculum and curriculum training– You will receive the entire proprietary My Music Workshop curriculum that's helped thousands of youngsters become lifelong music lovers. You will be trained on how to properly use the curriculum to teach amazing music classes week after week.
Ongoing support – Our experienced team is committed to being there to support you with day-to-day operations and business management, via phone, text, email or refresher training. We are here to help you succeed!
Confidential operations manual – Our operations manual will become an invaluable daily resource that details key business functions and procedures.
Marketing materials – We will provide you with an extensive library of templates (that you can customize for your location) and offer guidance on connecting with schools and facilities throughout your local area.
Marketing support – We will teach you how to effectively market your program, get students and keep students.
Registration and Tuition Collection Portals – Our website becomes your website. You will be able to send parents to www.MyMusicWorkshopForKids.com to collect student registration forms and tuition payments that will go directly to you.
Learn more about how we support your children's education franchise. Visit our Frequently Asked Questions page, request more information, or contact us at:
Frequently Asked Questions:
What experience do I need to become a My Music Workshop franchise owner?
There is no specific experience required, but of course a genuine interest in music and working with children is important. No matter your experience or background, we'll provide the training, tools, curriculum and support you need to start your franchise and grow it over time. Just have the passion to bring quality music education to kids and we can take care of the rest!
Do I need to actively work in the business to be a franchisee?
Yes. We are looking for franchise candidates who will be actively involved in their businesses, often taking on the role of the lead instructor in early phases of growth. (Appropriate certification is required for all instructors.) If you choose not to act as the lead instructor, we require you to hire a lead instructor who is approved by us and will receive training alongside you in all aspects of building and running the business.
What is provided as part of the My Music Workshop program?
We have used years of experience in the classroom teaching music to preschoolers to create a truly unique, effective and fun curriculum that focuses on our Listen, Learn, Play!® method. You'll be fully trained on how to teach music classes with this method. In addition all franchisees receive:
Comprehensive, five day training on ALL aspects of the business including:

Contacting local schools
Marketing the program within those schools
Teaching great class using the curriculum
Hiring teachers
Day to day business duties
How to respond to questions from parents, schools
How to work with young children and keep them learning and having fun
How to run a profitable business
Much more...

Two full copies of the curriculum (All books, music, lessons, plans and materials)
Scripts to assist with booking schools
Strategic guidance on all aspects of running your business
Marketing templates that you customize including:

Flyers
Posters
Class Trial Forms
Banners
T-shirts
More...

Business templates

Email templates for booking schools
Email templates to contact parents
Invoicing templates
More...

A protected territory to run your program

The territory is based on at least 70 preschool locations
Within the territory you can work with any elementary schools that fall within the territory boundary

Birthday party curriculum
Instrument lists so you know exactly what to use in your classes
Scheduling assistance for classes
Class roster forms
Full use of the My Music Workshop® logo, all trademarks and copyrighted material
Calendars and checklists to assist in opening and running your business
Operations manual detailing the business
Payment portal support
Use of the MyMusicWorkshopForKids.com website as your own
PDF's for parents with guidance on instruments, how to encourage music at home and more.
Any updates that we make to our program are shared with you
Direct support from our management team for the life of your business
A genuine passion from our team to help you make your business a success for many, many years.
More...
What is the start-up cost for a My Music Workshop® franchise?
The initial franchise fee is $22,500. Additional costs to get your business up and running can range depending on your location, whether you would need to build out a home office, purchase a vehicle, computer and other necessities to run your business. If you have these things already the overall investment would be lower.
Is financing available?
We do not provide direct financing, but we may refer financing sources on a case by case basis.
Are there ongoing fees to pay?
Our royalty fee is equal to one students tuition per class. Additional classes held at the same campus on the same day are charged ½ of one students tuition. For other revenue generating aspects of the business a royalty of 8% of net revenues is charged. These fees allow us to fund our ongoing support and the continued development of music curricula, marketing tools, ongoing updates, training programs, and more.
How do I get started or learn more?
If you're interested in learning more about how to open a children's music education franchise with My Music Workshop®, simply fill out the form at the bottom of this page to request more information. Or you can contact us at (619) 347-0424 or franchise@mymusicworkshopforkids.com. We'll get in touch with you right away to provide you with more information.
Check us out in the media! Click HERE to view a MarketWatch article about our two most recent franchise additions!